Please note Counties serve as the local liquor licensing authority in unincorporated areas.
"On-premise" means liquor service in bars, restaurants, and banquet halls; "off-premise" means sales of packaged liquor.
IMPORTANT: ALL seller/server training (BASSET) students must renew their BASSET certification every three years (or less, if so required by local ordinance).  Additionally, state law requires
ALL on-premise servers (and those whose job description entails the checking of identification for alcohol purchase or entry into the licensed premises) to be BASSET-certified by a certain date if not already required by local ordinance.
* DUE TO SOME VILLAGES NOT ACCEPTING ONLINE CERTIFICATES, WE DO NOT OFFER ONLINE CLASSES
BELOW PLEASE FIND THE COUNTIES & DATES REQUIRING CERTIFICATION
BASSET certification currently required (as of July 1, 2015)
• Cook County
Certification required by July 1, 2016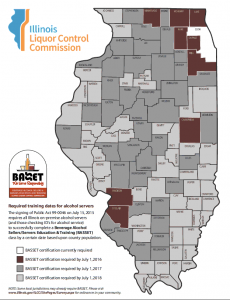 • Champaign County
• DuPage County
• Kane County
• Lake County
• Madison County
• McHenry County
• St. Clair County
• Will County
• Winnebago County
CERTIFICATION REQUIRED BY JULY 1, 2017
• Adams County
• Boone County
• Bureau County
• Christian County
• Clinton County
• Coles County
• DeKalb County
• Effingham County
• Franklin County
• Fulton County
• Grundy County
• Henry County
• Jackson County
• Jefferson County
• Kankakee County
• Kendall County
• Knox County
• LaSalle County
• Lee County
• Livingston County
• Logan County
• Macon County
• Macoupin County
• Marion County
• McDonough County
• McLean County
• Monroe County
• Montgomery County
• Morgan County
• Ogle County
• Peoria County
• Randolph County
• Rock Island County
• Sangamon County
• Stephenson County
• Tazewell County
• Vermilion County
• Whiteside County
• Williamson County
• Woodford County
CERTIFICATION REQUIRED BY JULY 1, 2018
• Alexander County
• Bond County
• Brown County
• Calhoun County
• Carroll County
• Cass County
• Clark County
• Clay County
• Crawford County
• Cumberland County
• De Witt County
• Douglas County
• Edgar County
• Edwards County
• Fayette County
• Ford County
• Gallatin County
• Greene County
• Hancock County
• Hardin County
• Henderson County
• Iroquois County
• Jasper County
• Jersey County
• Jo Daviess County
• Johnson County
• Lawrence County
• Marshall County
• Mason County
• Massac County
• Menard County
• Mercer County
• Moultrie County
• Perry County
• Piatt County
• Pike County
• Pope County
• Pulaski County
• Putnam County
• Richland County
• Saline County
• Schuyler County
• Scott County
• Shelby County
• Stark County
• Union County
• Wabash County
• Warren County
• Washington County
• Wayne County
• White County